HELMUT CHEF/OWNER
International status as a chef with 40 years of experience in Austrian, French and German cuisine. He will meet your taste needs, whatever it will be.
NATASCHA WIFE/OWNER
has 35 years experience in the Hotel, Tourism and Service Industry in Austria and Switzerland. She will do the best to accommodate your dining pleasure.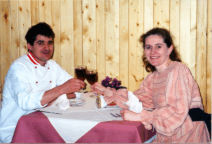 The warm intimate setting for cuisine and service, which are impeccably Austrian, reflects our tradition in the European hotel business. The great deal of pride and joy we take in our business, reflects our motto: "For the love of fine food". After all, we are delighted to have you as our guests.